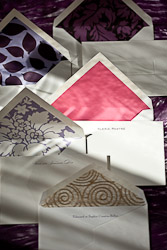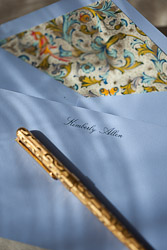 In an era when personal correspondence is increasingly rare, personalized stationery is an expression of one's individuality and sense of style. A visit to Un Petit Mot and we are quickly encouraged to slow down and take the time to write a proper "thank you" or to simply send greetings for the countless occasions that life offers us. With so many styles, colours and forms of writing paper and cards, creating your own personalized stationery is a labour of love. Whether just identifying the perfect typestyle for you, creating your own logo or monogram, or choosing one of the many colourful envelope liners, detail is the key to success in creating stationery that reflects your personality.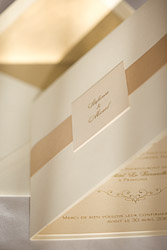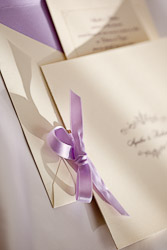 Un Petit Mot offers a wide and diverse selection of invitations as well as menu cards, place cards, church programs and thank you notes, from simple and chic classic designs to the more modern colourful with cutting-edge formats. Un Petit Mot proposes to each bride and groom a chance to create the perfect set of invitations and trousseau of paper to express their personality, taste and style for that very special day. Over 50 couples a year choose Un Petit Mot to create and produce their wedding invitations. So rest assured that you will be in good hands and receive experienced advice from Marianne. From a simple ceremony and lunch to a three-day affair in Ibiza or Tuscany, you will certainly find the most desirable solution for that perfect wedding invitation at Un Petit Mot.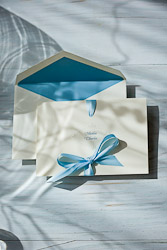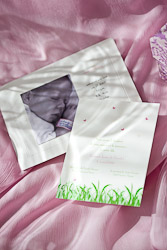 At a moment this precious, nothing proclaims the joyful news quite as personally as a customized baby announcement. The first note of baby's arrival can be classical with hand tied grosgrain ribbons or may be the perfect photo card elegantly framing your new bundle of joy. Un Petit Mot's collections give you a wide range of options of formats and a luscious palette of colors and designs. Marianne Domec will guide you through all these choices so that your baby's announcement will be well created in the unique style that suits your taste.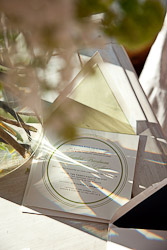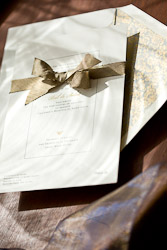 Abundant flowers, delicious canapés, a lovely home or venue… and simple grace and warmth are the secrets to hosting a wonderful party. But it all starts with the party invitation. From engagements to milestone birthdays, bon voyage or retirement parties, you will find all the elements you need to create the perfect invitation. The invitation is the first hint of the style or theme of your celebration, so make it an occasion to celebrate in style!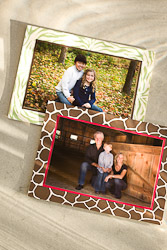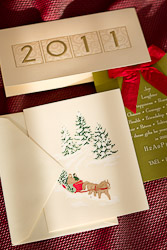 Un Petit Mot has an exquisite collection of holiday cards for your end of the year greetings. Classic cards for personal or corporate use, photo cards for regular or digital photos as well as a lovely range of invitations for your holiday festivites.
All cards can be personalized with your own greeting and names, or with corporate logo. Holiday orders are given prioirity so they ship within one weeks time .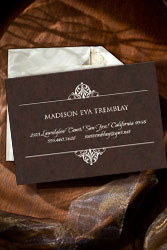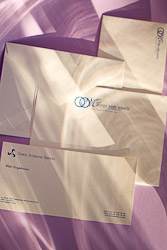 Business cards, lettersheets, correspondence cards, mailing labels, and memo pads are just a few of the products in the business paper lines incorporating your corporate style and logo. Un Petit Mot is proud to offer all types of printing process from flat printing, digital, thermography, and engraving, to meet your professional needs.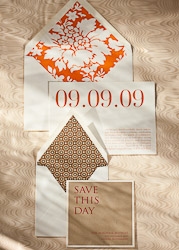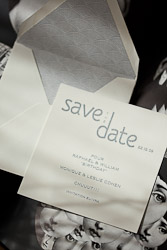 That is the simple message that this new genre of cards has filled. It's the latest and most assured way to make sure your guests mark their calendar to ensure that they attend the event. It is also a chance to start to convey the look and style of your invitations. The Save the Date is a "teaser" of what is to come. You don't want to give all the details…just make sure that your guests have noted the event…and the date!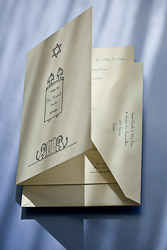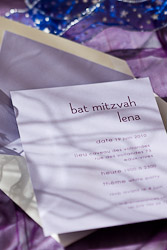 Un Petit Mot has a diverse collection of styles and formats to announce this rite of passage. With many new formats including folders with pockets, duplex cards and digital printing, there is no shortage of choice. From more conservative events to the disco parties in the trendiest warehouse, Marianne Domec will help you to find the perfect match to announce this event. Un Petit Mot is also pleased to offer printing in Hebrew.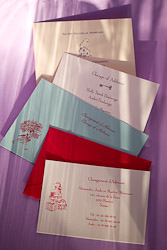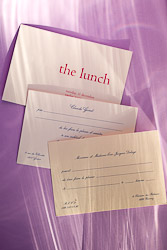 Moving is often a time of upheaval but can also be a time of adventure and reflection. Sharing your apartment or new home with family and friend means sharing your new address and the excitement and possibilities of a new life. So let them know where you have landed with a classic or creative moving announcement. At Home Cards or Dinner cards are essential for those who entertain often. Whether for a small dinner party, or a gala cocktail, having these open invitation cards with name and address already printed will facilitate inviting. These cards could also be in line with your personal or decorative style at home.